Weaving the Waitaki tartan is a passion project for us.
We had thought about doing this for years, but it was always in the too hard basket. One November day in 2022 it suddenly became important that we did it, before we couldn't. We are delighted that you are following our progress. We trust you will love this project as much as we do, and support us in telling
some of the stories of the Waitaki.


the three goals for our Waitaki tartan collection
To design and weave a tartan fabric that tells some of the stories of the Waitaki; the land, river, and people – with authenticity and respect.
To produce a commercially viable artisan fabric with a limited carbon footprint, as locally, sustainably and ethically as possible
To create a sustainable, marketable, registered tartan design, as a legacy
for future Waitaki culture and heritage fundraising events.
be part of the waitaki collection story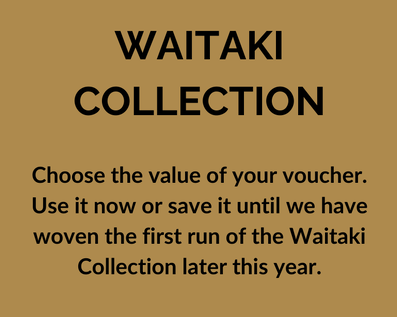 Gift Voucher
Purchase a gift voucher that you can redeem on an item of your choice when our collection is finalised.
the process of weaving the waitaki collection
CARE INSTRUCTIONS
Please wash this fine Merino wool product with care. Avoid snagging. We recommend washing
gently by hand using and eco-friendly wool wash. Dry flat. Cool iron.

DO NOT MACHINE WASH OR TUMBLE DRY.