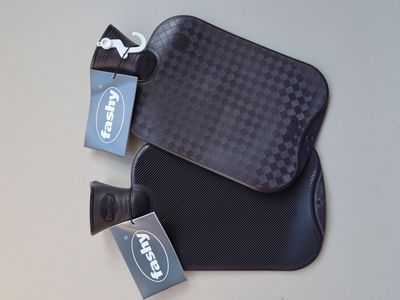 FASHY single rib hot water bottles - assorted colours
$25.00
We are delighted to once again stock a range of beautiful, colourful Fashy hotties.
We recommend using German designed and manufactured Fashy-Thermoplast hot water bottles. Fashy has been making hot water bottles since 1948 and has continuously been developing its technology and design. These hotties are robust and durable, odourless and rubber free, with a large opening for safer filling.
Hot water bottles can be dangerous and cause burns if they are not filled, cared for or used in the proper way - please use your Fashy hot water bottle safely:
Do not use boiling water.
When filling, hold the bottle by the neck in an upright position and fill slowly to avoid water splashing back.
Fill your bottle to a MAXIMUM of two-thirds capacity.
Expel air from the bottle before tightening the stopper.
Do not put undue pressure on your hottie.
Use a cover to prevent burns.
When you are not using your bottle, drain it completely and keep it in a cool, dry, dark place with the stopper removed.
Check your hottie regularly for cracks or perishing.
SKU: F pale grey